Hier sind Ihre gewünschten Informationen über die Investitionsmöglichkeit
in Kakao-Parzellen in Belize!
Deutsche Informationen:
Englische Informationen:
Geschäftsmodell
Kauf von ½ Acre Parzelle einer Kaffee-Farm
Land
Panama
Anbieter
Seit 2014 hat International Coffee Farms 12 Kaffee-Farmen in Panama aufgebaut
Hat alles in seiner Hand, von der Jungpflanze bis zur gerösteten Kaffeebohne
Fokussiert auf Speciality Coffee
Gibt 20% der Rendite in den Sozialfonds zum Aufbau von Sozial-einrichtungen für die Arbeiterfamilien (Häuser, Schulen, Ausbildung, …)
Anlagedauer
20+ Jahre
Mindestens 5 Jahre
Kaffeebäume haben eine Lebensdauer von 22 bis 25 Jahren, danach können sie zurückgeschnitten werden und leben nochmals 2 weitere Lebenszyklen, anschliessend werden Jungpflanzen gepflanzt, welche die Bäume ersetzen werden
ROI / Rendite
Durchschnittlich über 10% / Jahr, je nach Alter der Kaffeebäume
Bei Neupflanzungen gibt es die ersten rund 3 Jahre keine Rendite (da keine Ernte), dann steigend von 7% bis 35%
Kosten
US$ 18'000 plus 5% Verschreibungskosten (US$ 900)
Eigentümerschaft kann auf 2 Personen aufgeteilt werden
(Cashflow Coaching kann interessierte Parteien vernetzen)
CHF 2'000 für VIP Cashflow Programm
Rabatt von 5% resp. 10% wenn über Cashflow Coaching gesamthaft
3 resp. 6 Parzellen verkauft werden
Risikoeinschätzung
Gering
Investor wird als Eigentümer im Grundbuch eingetragen
Erfahrung des Anbieters seit 2014
Field Trips möglich
Kein Angebot, Haftungsausschluss
Alle zur Verfügung gestellten Informationen, einschliesslich aller Finanzinformationen, werden zu blossen Informationszwecken zur Verfügung gestellt und stellen weder eine Investitionsempfehlung, noch ein Angebot noch eine Aufforderung zum Kauf, Halten oder Verkauf jeglicher Finanz- bzw. Anlageprodukte dar. Sie stellen keine Anlage-, Rechts-, Steuer- und/oder anderweitige Beratung dar.
Insbesondere gibt eine vorangegangene Performance weder einen Hinweis auf noch eine Gewähr für die zukünftige Entwicklung. Es gibt weder eine stillschweigende noch eine ausdrückliche Garantie für die künftige Entwicklung der Performance. Anlagen in Fremdwährungen unterliegen zusätzlich auch Währungsschwankungen. Zudem geben Prognosen keine zuverlässigen Anhaltspunkte für die zukünftige Entwicklung.
Cashflow Coaching haftet weder dafür, dass die enthaltenen Informationen vollständig und richtig sind, noch für Schäden von Handlungen, die aufgrund von Informationen vorgenommen werden, die in dieser oder einer anderen Publikation von Cashflow Coaching enthalten sind.
Sämtliche Angaben richten sich ausschliesslich an qualifizierte Anleger.
Interessenten sollten sich von einer qualifizierten Fachperson beraten lassen, bevor sie Anlageentscheidungen treffen.
Investment-Tour
Coming soon!
November 2020
New Packaging Machines and Chocolate Bar Wrappers Ordered!
As we continue in the phased development and expansion of the current chocolate-making factory in Belize and the introduction of our new factory in Panama, we are adding new equipment and altering our packaging process to handle the increased production and sales volume.
Until now, each and every bar we made has been individually wrapped and packaged by hand.
Considering we were selling 15,000 bars a month pre-COVID, that's a lot of hands!
Now that our 2+ years of relationship building in Japan is starting to bear fruit, with orders in-hand, it's time to scale up to the next level of production and packaging.
2 x flow-wrapper machines have been ordered and will arrive in 6-8 weeks, 1 for Panama and 1 for Belize, that will be able to wrap and seal 14,000 Brukdown or Ay Ombe 50gram bars per day.
To put this into perspective, it would take 3 people 14 days to do the same amount by hand and the end result of a hand-cut and hand-sealed package, would not be as neat and uniform as the machine will do it.
These same flow-wrappers will also be used to apply the inner-foil layer to our luxury range of 80gram bars in Panama and Belize.
With these changes, we can now take advantage of the economies of scale and order much larger volumes of packaging that has brought our cost per bar down considerably and increased our profit margins.
The new pricing brings Brukdown/Ay Ombe wrappers down from $0.017 cents per bar to $0.0033 cent per bar, and inner foil down from $0.09 cents to $0.028 cents.  In simple terms, the wrappers cost 80% less, and the inner foil on the luxury bars costs 67% less.
That's just the savings and cost reduction on packaging alone and before we take into account the massively reduced labor cost.
The new cold sealed packaging has additional, quality control benefits.
Wholesalers, distributors and end-consumer want to receive their food in sealed, tamper-proof packaging. Especially in light of the last 10 months!
Our new and improved packaging will allow us to produce larger volumes at lower prices and also increase quality control and customer satisfaction.
All of which adds to the bottom line and the return to our investors. Which is why you are reading these newsletters, right?
To discuss the current opportunity and see how you can profit from the sales of these bars, or to reserve your Units, respond to this email, request the subscription agreements or schedule a call here!
You can own your very own range of high-end chocolate bars that are set for global distribution!
October 2020
Our Post-Harvest Processes and Facilities
Dear Chocolate Friends
Last week we looked at our cacao nursery and farms as part of our vertical integration system.
The quality of our chocolate products starts with the care and attention applied from seed selection all the way to the final packing of our chocolate products.
Many hands, much love, and hard work go into every stage of the process by our team members who love what they do.
This week we take a look at our post-harvest process and our manufacturing facilities.  We delve into what happens during these two critical areas that complete our vertical integration system.
At post-harvest, wet cacao beans are turned into high quality, hand-selected cacao beans ready for chocolate processing.
When starting with high-quality cacao beans, the manufacturing of consistent quality, value-added pro-products, and finished chocolate products can be achieved and maintained.
It is therefore paramount for us to pay close attention to the critical control points during the cacao bean stage as they move through the value chain.
Learn more about our post-harvest and manufacturing process in our next video presentation of "Choco con Choco" by clicking the link below.
October 2020
Goals are Aligned When You Invest With The Operators
When you invest with AgroNosotros, you invest side by side with Sponsors who are also the Operators.
In Peini Cacao Plantation, LLC there are 2 in-house operating companies. Peini Cacao Plantation ltd, who manages the farming operations and Mahogany Chocolate, that handles the chocolate bar production and sales.
Both companies have experienced teams in place and facilities that are already operational.
The Mayan farming Team in Belize is managed and supported by our team of experts, agronomists and a biologist in Panama. The Chocolate making Team is supported by a Swiss Chocolate Maker with 40 years of experience.
Local and international sales channels for our finished products are established and being expanded with the help of our new Japanese partners! (more on that later…)
And, we structure each of our opportunities so that we participate on the bottom line with our investors. With performance related compensation, our goals are truly aligned.
Dezember 2019
[Mahogany Chocolate] New Belize Distributor – 600+ locations
We are extremely excited to announce that we are now under contract with the largest full-service and refrigerated national food distributor in Belize to carry our complete line of 6 artisanal chocolate bars which
include the 4 most recently developed products.
When we rolled out our Belizean and Brukdown bars nationally about a year ago we began selling them just in our own retail outlet, Mahogany Chocolate on Ambergris Caye.
This year we opened a 2nd outlet in our factory in Punta Gorda and added 72 independent locations around the country where our bars are available.
One of these locations is the Belize International Airport where our Mahogany Chocolate bars have been well accepted and will continue to be a hit this tourism season.
Getting further market penetration was proving challenging and was going to involve a large capital investment to acquire refrigerated trucks and to build a sales, marketing and delivery team.
So, we began negotiations with 3 national distributors and after months of doing so, we have reached a win-win agreement with the largest one, and we are starting our relationship off with a December order of 10,000+ chocolate bars.
Our new range of fine flavor Artesanal Chocolate Bars
This agreement is for a minimum monthly order of 100 boxes of each of our bars, totaling about 10,000 a month!
With an existing client base of 600+, the distributor is confident that we can see double that volume over the coming tourist months and most importantly, maintain a consistent year-round supply nationwide.
Getting our bars into these 600+ locations and in the hands of Belizeans throughout the country should very seriously reduce our current dependence on tourists during high season.
And, there is more good news if you are a parcel Owner!
The Curio Collections by Hilton resort where our store is located, is opening another 50 rooms and they are projecting Full Occupancy for the coming high season.
More guests will mean increased "pillow truffle program" sales, more tourists in the resort means more chocolate making classes and the hiring of some additional staff.
In addition to the extra staff needed to hand-make and hand-wrap 10k+ bars a month in our factory! we are continuing in our efforts to provide steady jobs and career opportunities for our community.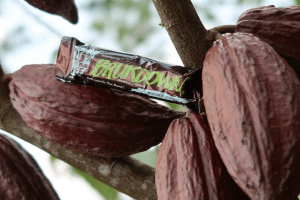 Our first two chocolate bars released, Belizean and Brukdown
Now, with our cacao saplings more than 2 years old and only one or two years away from production, the addition of this national distribution channel and the extra rooms in the resort, we are expecting to see some amazing results and rewards for the last 3 years of extremely hard work.
To our Cacao Parcel Owners…congratulations on your decision to come on board over the last few years.
To those of you who want to participate …now is the perfect time to add cash-flowing cacao farm parcels to your portfolio.
Schedule a call here or send me an email before December 16th and you will also be able to participate in our End of the Decade promotion with our lowest ever prices.
Just as a teaser…you can save $12,000 or more by acting now!